CLASS 12TH EXAM CANCELLED DUE TO CORONAVIRUS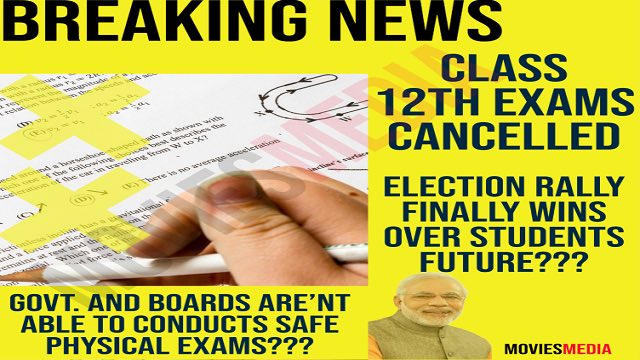 CLASS 12TH EXAM CANCELLED DUE TO CORONA VIRUS
As today there is an announcement conducted regarding board exam of 12th class that boards exams are cancelled.
The students will be promoted on the basis of their past performances in the school.
But there are a lots of questions which should be asked from our education systems and our government:-
Is our govt and boards are unable to conducts safe boards exams?
Around 3,40,000 students are assumed to be appeared for board exams this year. for this cbse decided to increase their examination centres from 5,000 to 75,000?
Now the main question which is to be raised to our ruling govt. and to those who supports this decision.
Is this is a correct decision for our student future?
Without conducting exams how anyone can decided that the student is capable of to passed that exams or not?
ALL ARRANGEMENTS AVAILABLE FOR ELECTIONS RALLY DURING PEAK TIME OF CORONA BUT GOVT, IS  NOT ABLE TO CONDUCT EXAMS WHEN COVID RATE IS GOING TOBE  SLOW DOWN
Everyone knows what happened during "West Bengal" elections. during pandemic, elections rally were conducted with all their powers. it means our govt is able to conduct rally safely but it is not able to conduct boards exams.
On what basis university and top class colleges are able to give admissions to the students on the basis of their past performances mark sheet.
When CBSE decided to increase their number of centres for conducting exams safely. so now, why govt not supporting them in that decision instead of cancelling the exams. it's a biggest slap to our upcoming future and development of country
Here is the PM's Tweet:-
Government of India has decided to cancel the Class XII CBSE Board Exams. After extensive consultations, we have taken a decision that is student-friendly, one that safeguards the health as well as future of our youth. https://t.co/vzl6ahY1O2

— Narendra Modi (@narendramodi) June 1, 2021
Also, you can give your opinion on social media by tagging us @MoviesMedia.net.